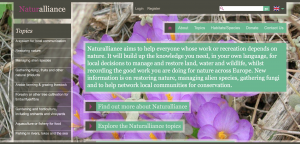 We have co-designed a multilingual (21+ languages) collective awareness platform that enables policy makers to integrate local knowledge into their decision making, while also guiding and encouraging local activities that restore and maintain biodiversity and ecosystem services.
Our vision is to enlighten, encourage and empower local communities to support biodiversity restoration across Europe, through an internet system that unifies all available knowledge to guide decisions for the benefit of biodiversity and livelihoods.
Our challenge is to harness the collaborative power of networks (networks of people, of knowledge, of sensors) to create collective and individual awareness about restoration and maintenance of biodiversity and natural resources.
Our platform supports exchange of environmental information between central and local levels, as well as meeting commitments in many areas of the Convention of Biological Diversity. Our approach enables integration and delivery of formal environmental assessment systems with local knowledge and practices, using GPS, remote/local sensing, and internet/mobile services.
Please let us know if you wish to receive more information.